You're Making Me Squirt
Best douches for a spritzing summer
Summer is here, and we want to make sure that you are equipped with the best tools to help you have fun in the most safe and secure way possible.
For all those douche users out there, we have removed the gamble for you as a consumer; we partnered with our friends at AdultToyMegastore to review four of their douches so you can be confident you're using the douche that's right for you!
Each douche has been given a ranking out of five in the following categories: 
Time
Easy fill
Portability
Insertion
Comfort
Pressure
Effectiveness
These are then added up and divided by the total to give an overall score.
DISCLAIMER: these tests were performed over two weeks, as it isn't healthy to douche too regularly!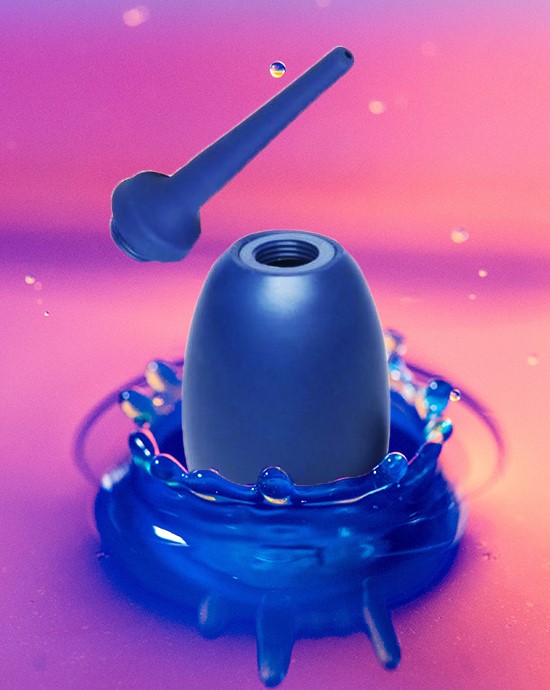 Time 💧💧💧
20 mins approx


Easy fill: 💧💧💧💧
Screw-tip nozzle = sizeable hole to get water into bulb
Portability:💧💧💧💧
This douche is on the smaller side, which means it's easy to pack into a toiletries bag for the on-the-go bottom, but that does mean you need to refill more frequently.
Insertion:💧💧💧💧💧
The slim, tapered silicone nozzle makes for total ease of insertion. The flare at the base of the nozzle gives a great indication of depth of insertion (for measuring how deep your douche is).
Comfort:💧💧💧💧💧
This was the first douche I used after 107 days of not putting anything up my butt (read: lockdown). The slender nozzle was the perfect shape to ease myself back into the flow (pardon the pun) of things! The velvet texture of the silicone was soft to the touch so the experience was very comfortable. There are also optional add-ons to the Cleanstream which can enhance comfort and experience of the douche.
Pressure:💧💧💧
Not too heavy, not too light, all controllable by how fast/tightly I gripped the bulb. For those who like a bit of pressure, this one may be a little on the light side.
Effectiveness:💧💧💧
All-in-all, better than most, but did take about 3-4 refills to get the bussy spritzed and ready to ride. But once riding commenced, there was not a speck to be seen - so a job well done by the Cleanstream!


Experience level
This is the perfect douche for all levels of experience. It provides comfort and the water will not spill out the sides of the nozzle, because of the screw tip keeping it in place. Easy to use, comfortable to insert. Perfect for beginners, pros, and those just wanting a little bit of watery fun!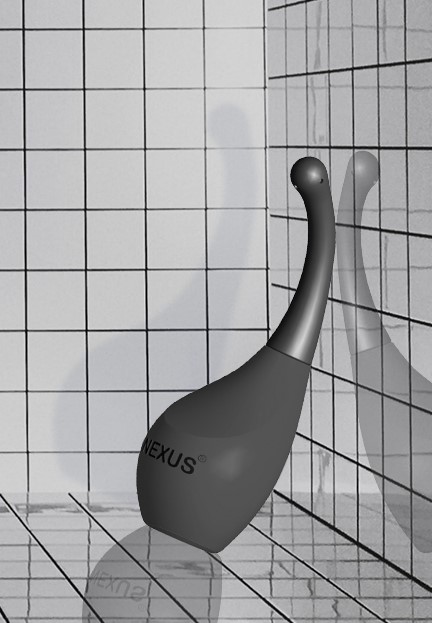 Time:💧
40 mins approx
Easy fill: 💧💧💧💧
Large screw-fill = convenient filling with minimal spillage and with a large bulb, the number of refills is reduced.
Portability:💧💧
Large in size, so wouldn't fit in a toiletries bag, but the detachable nozzle makes storage easier.
Insertion: 💧💧💧💧
The most unique douching insertion experience I've ever had. I was worried about the size and curvature of the nozzle, however, I was pleasantly surprised at the ease at which the nozzle was inserted!
Comfort:💧💧💧💧
I didn't know whether I was using a douche or a sex toy! It was so pleasurable, and you can't go wrong with a tickle on the prostate!
Pressure:💧💧
With five holes, this douche doesn't jet water out at a rapid speed, so if pressure is your thing, then this won't give you a hardcore sensation. However, it does spritz out A LOT of water - when pulling it out of your hole you can expect a fountain, so be sure to be in the shower or over a toilet bowl to help with the clean-up.
Effectiveness:💧💧💧💧
Very effective! With holes on all sides of the nozzle, this is bound to spritz every side of your rectal passage, making for a very efficient clean. However, user beware... a slightly different spritzing technique may be necessary as the nozzle is quite long and it provides quite a deep douche!
Experience level
I would recommend this douche for the more experienced/advanced doucher. This is for someone who knows their body and how their body responds to a deep douching with significant water flow. Using this douche does require a level of co-ordination I had not experienced in previous douching situations, so a level of dexterity as well as spatial awareness is necessary, particularly when pulling out, so as not to make a mess.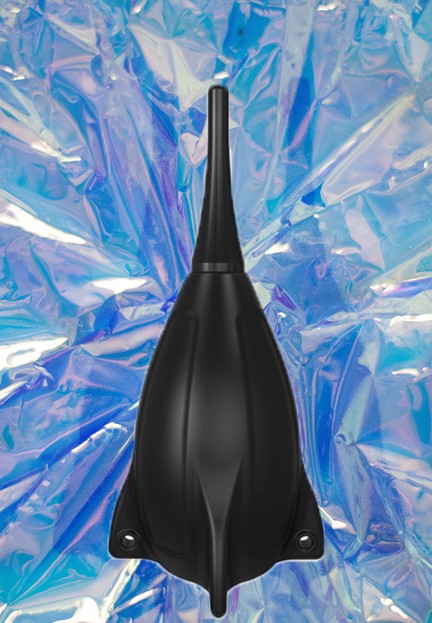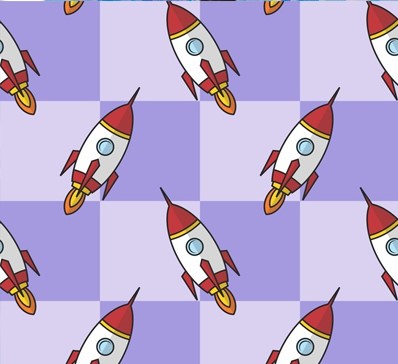 Time:💧💧💧💧
10 mins approx
Easy fill:💧💧💧💧
Slightly smaller hole than the others, but easy enough to fill. Interior of the bulb is bigger than it appears, so what it lacks in hole space, it makes up for in filling capacity, meaning refills are kept to a minimum.
Portability:💧💧💧💧💧
IT COMES WITH ITS OWN CARRY BAG!! The moisture-wicking travel satchel makes the Bathmate Rocket Douche PERFECT for the on-the-go doucher! It also has a suction cup and chain attached to it, so you can hang it in your shower/bathroom when it's not in use.
Insertion: 💧💧💧💧
A blunter tip than expected, which was unusual at first, but you get used to it. The slender nozzle makes for easy insertion.
Comfort: 💧💧💧
Reapplication of lube was more frequent using this douche than others. The nozzle is plastic, rather than silicone, so has a slightly harder texture.
Pressure: 💧💧💧💧💧
Amazing pressure - not too high, not too low. The airtight nozzle has a non-return valve, which means the bulb doesn't refill with air when you remove it from your rectal passage. This means that you aren't pumping air into your rectal passage, which can cause complications while douching and isn't healthy. This also helps give an indication of when the douche needs to be refilled. However, I only needed to fill it once.
Effectiveness: 💧💧💧💧💧
Highly effective! With only one fill, I was able to complete my douche in a mess-free, spill-free way! Very satisfied.
Experience Level
This douche is perfect for any skill level. The nozzle is thin enough for a beginner doucher and the airlock provides a novel experience for the more advanced douchers among us! With the extra features of the carry bag and the suction cup to hang, you cannot go wrong.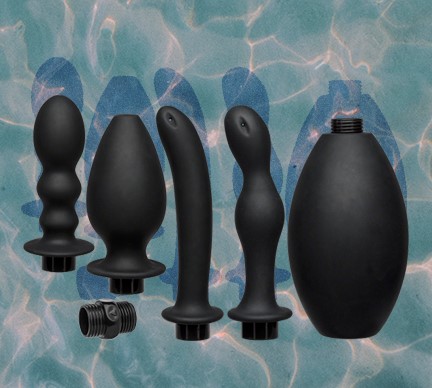 Time: 💧💧
Given the number of nozzles, you're going to want to give yourself some time to get this completed. With that said, it also means that it's not gonna be a quickie - but let your hair down and indulge yourself a bit!
Easy Fill:💧💧💧
Large bulb means a fill that lasts (you can even change nozzles and still have a partially filled bulb!). The nozzle adapter does mean that water flow into the douche spills over when you're filling, so be prepared to get wet hands.
Portability: 💧
Five nozzles and a massive bulb without a travel bag do not make for easy travel/portability.
Insertion: 💧💧
With five different sizes, this gives you the opportunity to work up the levels of girth and insertion. The notched nozzles are super fun to play with and feel just like a sex toy, so go for your life and give yourself a treat. User beware however - the butt plug is not one you want to go and just ram straight up there!
Comfort: 💧💧💧
The four ridged nozzles are a great for the sensations and feel very much like a sex toy to get your hole quivering. They are super useful when working yourself up to take the butt plug attachment. USER WARNING: The butt plug is wide and if you are prone to anal fissures, be sure to use this gently and don't force it up your hole!
Pressure:💧💧💧💧
Perfect for either douching or a bit of water play, the water pressure is just right on each of the attachments. The pressure on the butt-plug attachment was slightly weaker, but it seems as though the water has further to travel.
Effectiveness: 💧💧💧
If you take your time to use the full gamut of attachments, you will receive a highly effective douche. However, if you go overboard and don't use caution when using the butt plug attachment, you could give yourself an anal fissure and completely derail your plans to bottom.
Experience Level
This douche should be used by advanced douchers or people who aspire to be an expert doucher. If you have not put anything in your hole for a long time (e.g. a five-month lockdown), this is not the douche for you henny. Don't be greedy, y'hear?!
With something for everyone, you're bound to have a spritzful summer! Remember to use lots of lube when putting anything up your butt.