A Smacking Success: Sex Toy Review
The closest I had ever been to trying BDSM was slapping on a dog collar for a punk themed party.
I'm always open to new sexual experiences so when the opportunity to test out three different spanking sex toys from Adult Toy Mega Store came up, I stuck my ass out and said hit me.
As a complete newbie to this side of pleasure and pain, I wanted to try it out with someone I trusted. After asking around, I found a good Judy that was keen to explore with me.
From my research into the topic, I decided that we should do it in my room, somewhere comfortable for both of us, with a playlist to get us in the mood (masking the noise from my neighbours), and with a safe word (banana). We made sure to discuss consent and what that looks like before we got started.
Adult Toy Megastore provided us with three different tools of the trade; the Bound Luxury Riding Crop, the Saffron Loop Paddle, and the Scandal Flogger.
We rated each toy based on the pain level (ouch metre), how beginner friendly it is, and how it felt for the dominant person to use.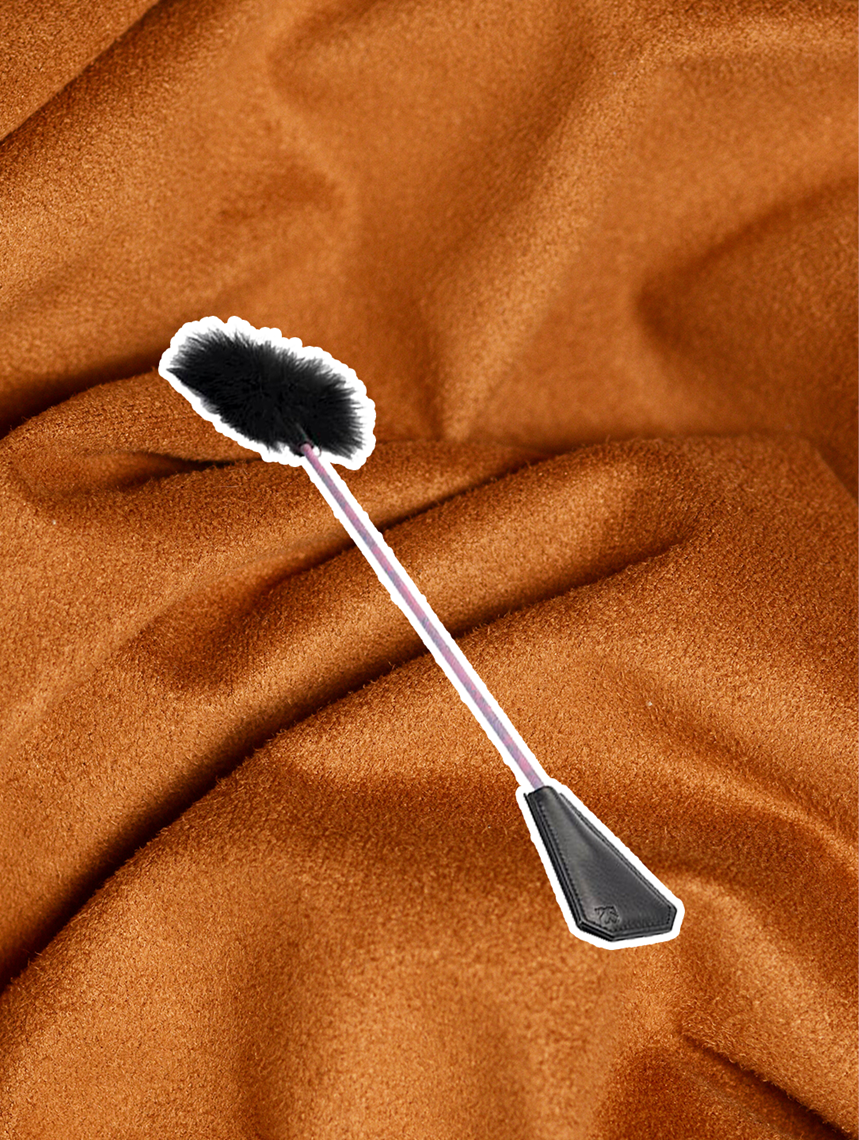 Colour: Dusky Pink
Length: 19.68 inch (50 cm)
Material: Jacquard polyester, PUV, Real Feather
At first glance this was the least imposing of the paddles at our disposal. Double sided with an ultra-soft feather tickler on one side and a strong faux leather crop on the other.  The cute design and soft pink colour were really giving the Ariana Grande of paddles.
The initial smack was loud, but the pain level didn't match. Bark bigger than its bite. The feather-end was a cute after-care moment and built anticipation as I didn't know what was coming next.
TIP:
Tickle the feather around the crack and lower butt area for extra pleasure
Once I got into the mood and settled into the feeling of a nice smack, I couldn't help but beg for more from my dom. Unfortunately, there wasn't more to come from this one. Even the hardest smack didn't quite get me there.
In saying that, this was the perfect starting point for my journey into paddle play.
Ouch metre:

Beginner friendly:

  Feel for the dom:

I couldn't help but let out a yelp even with the lightest flop onto my ass.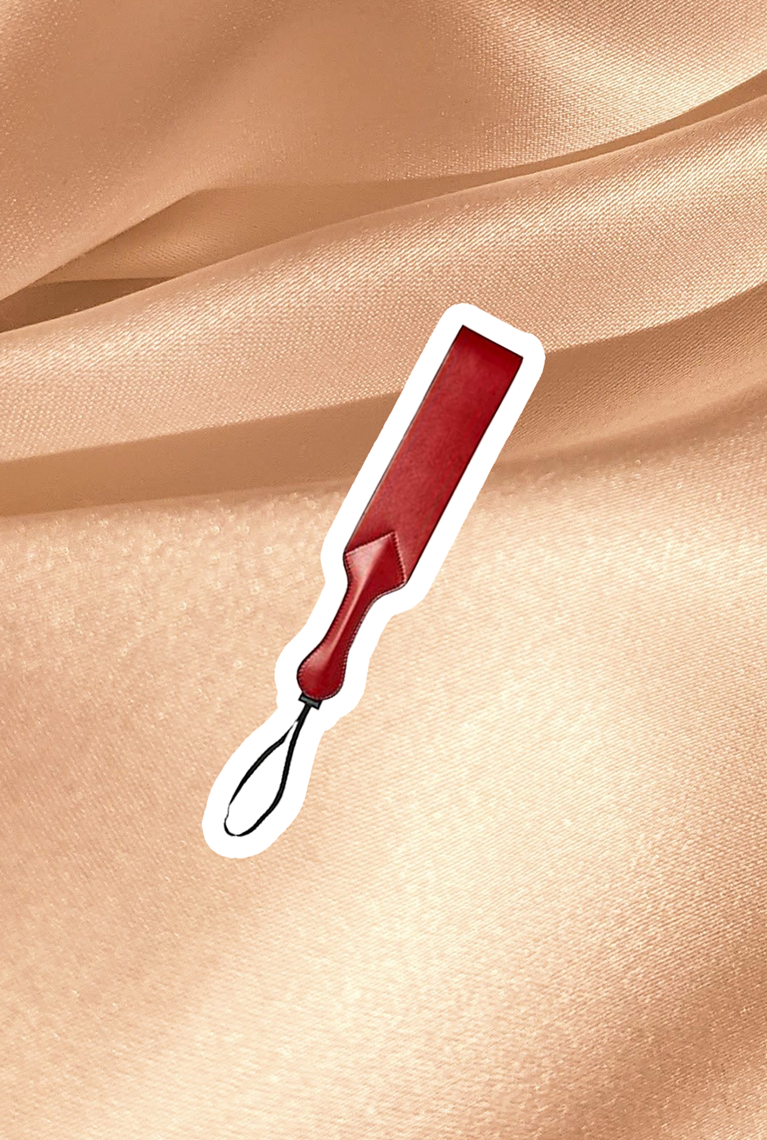 Material: PU Leather
Colour: Red
Wrist loop on the handle: Adds security during use and a hanging point for storage.
This paddle is described as "somewhere between the tip of a crop and a folded over belt". The most noticeable difference between this loop paddle and our riding crop is the sheer surface area it covers. It's also a lot sturdier, making the dom feel confident and ready to inflict some pain (pleasure).  
This paddle striking my ass really took it up a level on the ouch metre, and the sweet sting after the fact was also enhanced. The look of it and the feel of being hit by the paddle instantly brought up the anticipation factor.
TIP:
If you've invested in the riding crop above or something similar, bring in the feather to keep things interesting
Ouch metre:

Beginner friendly:

  Feel for the dom: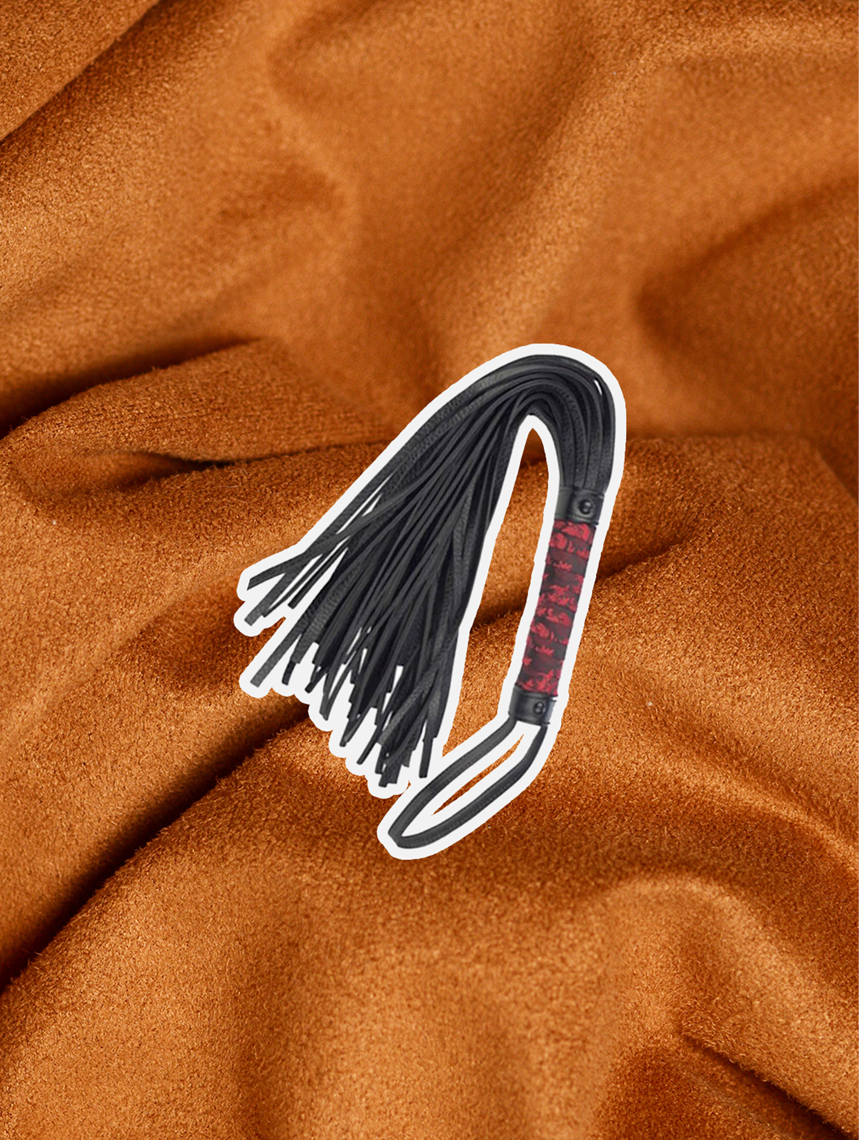 Length: 37.5 cm (tassels) / 69.25 cm (overall)
Features: Sturdy, designer fabric handle. Soft teasing tassels. Convenient strap.
Material: Polyester
This flogger will have you screaming "escandalo", I couldn't help but let out a yelp even with the lightest flop onto my ass. Vocalising the pain elevated my experience, although at some point "Biting Down" by Lorde came on the playlist so I did try sink my teeth into the pillow.
You'll feel a bit like a cowboy with this one, so slap on the wide-brimmed hat and play our Orville Peck inspired playlist.
The one downside to this whip is that it was the hardest to master as a dom. If you're like me and have poor hand-eye coordination, take it slow to avoid missing the soft spots you're aiming for. We want to cause pleasure, not injury! 
TIP:
If you're the dom then use the flogger like it's flat when smacking it down
Feeling kind, dom? Run the tassels across the booty to make your sub feel like they're in the Sense8 orgy scene before smacking them hard, harder, harder, ooh baby that takes me back.
Get creative with this one and try some backhanded movements, use the tassels to strike in one spot or let them spread out over the butt. The grip and comfort of this handle made it super comfortable to use.
Ouch metre:


Beginner friendly:

  Feel for the dom:


Final smacks

Overall, our favourite was the Scandal Flogger but would recommend the Saffron Loop Paddle for beginners.

The Bound Luxury Riding Crop would also be a good beginner paddle, but you might want to move beyond it quicker than expected. It is a great addition to your playtime though and worth investing in it alongside one of the other two.
Our experience trying out spanking play for the first time was amazing and we are both keen to try it out again in a more sexual context. The playfulness that we approached it with made us both feel safe and our high trust levels for each other carried us through the experience.
We found that exploring the sensation of the paddles, rather than having a goal that we wanted to achieve helped. Consider adding some of these toys into your next foreplay session. We also have suggestions and tips on others to spice up your play time here.